Mason is interviewed by Jed Hancock-Brainerd of Strange Attractor Theatre Company.
"I became interested in [art] as a spiritual practice. We had this directing class in high school and on our first day of class we had this assignment to write the definition of art. And everyone writes these smart, interesting things and I was like, 'I think everything is art. Art is a verb or an action. It's a thing you do. It's a lens.'"
DC Metro on Sans Everything.
"We get the wrestling scene, performed in deliriously giddy costuming. Three times, with slight variations. It's almost completely separate from the hour's performance preceding it, yet entirely dependent on what has come before, and feels like magic. It's followed by another, wordless sequence that would sound banal in description but felt (that word again!) intensely poetic, moving, and a "logical" progression toward a final moment that again draws upon an image from earlier, now transformed into an affirmation of live performance as a human(e) endeavor, the resistance of life to annihilation."
Phindie on Sans Everything.
"Philly's FringeArts presents
Sans Everything
, a must-see collaboration between Lightning Rod Special and Strange Attractor that pairs Artificial Intelligence with Shakespeare's
As You Like It
to deliver a brilliant, breath-taking and thought-provoking performance."
DC Metro on ONE WAY RED.
"Together, conceiver, creator, and performer Dani Solomon and director and co-creator Mason Rosenthal have woven a delicate and haunting sequence of scenes that explore what it's like to take a trip into the unknown, from which you can't come back."
Mason and Morgan FitzPatrick Andrews are interviewed by Dani Solomon for Curate This, on their collaborations.
"Mason adds, 'Susan Rethorst has this phrase that making is thinking. So the act of making things over and over again is a kind of thinking and a kind of very sophisticated thinking that's different from talking about what the show might be or writing it out. And we did a lot of making as thinking.' Within these limitations, says Mason, 'We were building a vocabulary together.'"
Motif Magazine on Sans Everything.
"Thanks to their unique process of creating their plays, there is an intimacy and specificity to
Sans Everything
that often allows the actors to not speak for long periods of time, and it is here where their personal connection to the material truly shines. It is like that family story that has been told again and again at gatherings. It has been embellished over the years until it grows into a finely honed yarn that everyone knows the details to and even still, everyone delights in the telling. And of course, nailing the punchline."
​The Scotsman on Gwendolyn Makes Old Woman.
"By troubling language, the play gets under the skin of what it is to be human."
The Broad Street Review on
Let the Dog See the Rabbit
.
"Vividly imagined and wisely crafted by director Mason Rosenthal, who shaped a quirky and clever theater piece that had his performers dancing, climbing, crawling, falling, stomping, and singing."
The Pittsburgh Tribune-Review's write up of Nobody's Home

.
"The work grew out of Rosenthal's desire to do a show in his own 12-foot by 12-foot bedroom, inspired by the guided-meditation techniques of German spiritual leader and author Eckhart Tolle. 'When the meditation goes wrong, the play turns into a relationship drama, then a game show and a high-school dance,' Andrews says."
Colgate News on Seeing the Beast.
"'We presented this first as a theatrical dare. What would it be like to 'rewild' Hamilton?' continued Sheppard, founder of the Philadelphia-based Groundswell Theatre Company. 'It entered us into this larger conversation about what it means to be an animal. How estranged are we from that experience? How do we have to think about our responsibility as human beings?'"
WHYY Newsworks' review of The Hunchback of Notre Dame.
"Mason Rosenthal collaborated with Annie Wilson and the ensemble to devise the all-important movement, which shows off the church's interior by using it to tell the story in dramatic and meaningful ways."
Philadelphia City Paper's review of Go Long Big Softie.
"Sheppard and Rosenthal convincingly create middle-aged characters who are boys at heart, making what at first seems a satire of a long-gone movement into a playfully profound story."
thINKingDANCE's review of Go Long Big Softie.
"Athletic, embodied, earnest, and endearing, and sometimes all at once! "
Description of University of Pennsylvania workshop.
"People became suddenly comfortable being forced out of their comfort zones. In three short hours, the group came together to create five creepy, fascinating, awkward, fun pieces."
FringeArts interview on Mining the Mine of the Mind for Minderals.
"'The piece in the end asks the question of whether there's an essential you,' Mason says. And this question pushes into the basic premises of performance as well. 'How do I bring authenticity, vulnerability, and realness to the stage?' asks Mason. 'And is there such a thing?'"
Powered by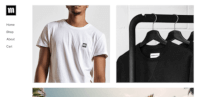 Create your own unique website with customizable templates.